Quality Orlando Painters provides professional pressure washing, safe roof cleaning, and exterior soft wash services in Orlando – Central FL area.
The Key to Keeping Your Structure Beautiful
and Valuable for Years to Come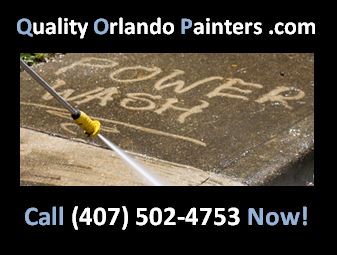 Have us remove all the DIRT, GRIME, ALGAE, and MOLD
that has accumulated and can deteriorate
the surface as time goes on!
Here in Orlando, the hot, humid weather and the scorching sun are brutal on exteriors.
No matter what they're made of, your exterior walls constantly collect dirt, grime, algae, and mold.
Stains develop. Streaks run down from your roof and windows. Gutters accumulate gunk and then spill it all over the side.
These problems can become permanent if not treated early enough. And then you're looking at expensive solutions that can be avoided if you act in time.
That's why you should call us TODAY for our gentle Pressure Washing – the #1 choice for Orlando property owners!
With our professional-quality equipment and many years of experience and expertise, we know how to make ANY structure look BRAND-NEW again!
Our pressure washing service gives NEW LIFE to your building – almost as if you had put a new coat of paint on it!
You can SAVE MONEY if you CALL (407) 278-5277 NOW…!
Let us give a fast FREE QUOTE, and you'll see what an attractive option this is!